Skills that employers look for in new employees ft. KPMG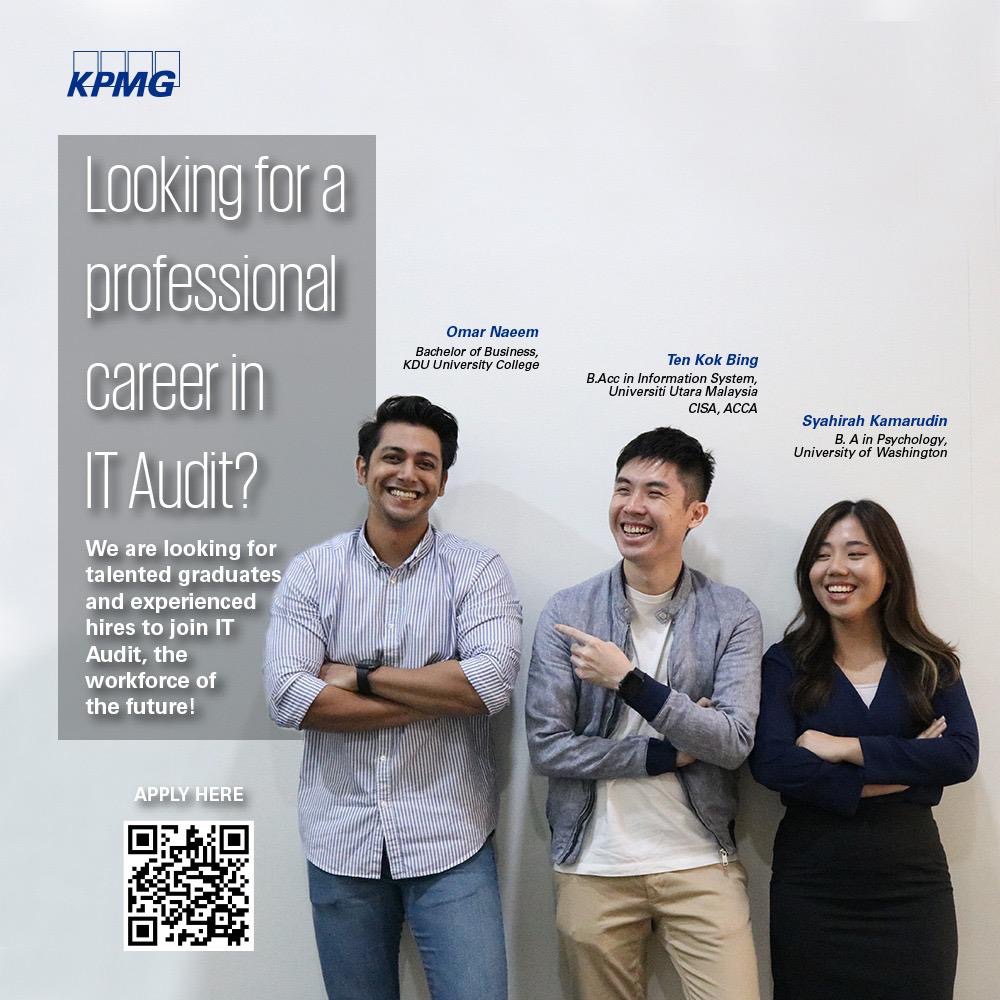 1. What are some hard skills that you look for when recruiting?
We look for individuals who possess accounting and auditing skills, knowledge in analytics and have experience in project management.
2. What are some soft skills that you look for when recruiting?
We are seeking for individuals with good work ethic, strong command in English and high level of confidence, critical-thinking skills, actively involved in extracurricular activities (leadership, position, club, sports, etc), teamwork-related skills. We value individuals who stand for doing what is right, is honest and truthful in their words and actions, who embrace diversity and inclusivity and can collaborate with others with respect, and who strives towards creating successful relationships.
Both hard skills and soft skills are equally important as our people are important assets in our continuing journey to gain the public trust and make sustainable, positive change in our society.
3. How would you describe the work environment at KPMG to new recruits?
We adopt an open and friendly culture amongst our People while providing the chance to work collaboratively with our outstanding professionals.
We also encourage continuous learning and growth to develop into the professional you want to be. Through KPMG's Global Opportunities (GO) program, our professionals are given the opportunity to gain international experience in various KPMG member firms.
Every day, we look to inspire confidence and empower change. Join us, and you could too.
4. What kind of personalities do you look for in new recruits?
Excellent leadership qualities and a good non-academic track record in extracurricular activities.
Initiative, good interpersonal and communication skills as well as the ability to work in a team.
5. Are there any particular qualifications that are more favourable than others when recruiting? Why or why not?
An accounting graduate with or intention to pursue professional qualification in likes of ACCA, CPA, MICPA or ICAEW as we believe that any individual should never stop learning and improving. A graduate who is seeking continuous learning will be a strong asset for the firm.
6. For graduates who are interested in working at KPMG, what would do you suggest they do to increase their chances?
We recommend that individuals be well equipped with accounting knowledge and communication skills to impress.
7. For graduates interested in applying at KPMG, what is the procedure like?
Log on to our KPMG website https://home.kpmg/my/en/home/careers.html choose your preferred working location and click apply.
Attached cover letter, resume and SPM/STPM/academic qualifications results/transcripts.
Last but not least, do complete the online assessment
8. What are some Awards & Accolades that KPMG has earned?
Graduate Choice Awards (GCA) – We are immensely proud and pleased to announce that in 2021, KPMG Malaysia has emerged as the Number #1 Most Preferred Graduate Employer to work for in the Accounting & Professional Services Category, while securing Number #2 in the Consulting Category. We are also humbled and gratified to have been ranked 9th in the Overall Ranking of the Most Preferred Graduate Employer to work for in 2021. Together, For Better!
Malaysia's 100 Leading Graduate Employers 2020 – KPMG Malaysia ranked #4 among the top 10 in the M100 Leading Graduate Employers Awards Overall Leading Graduate Employers, Top 3 in two categories: Accounting & Professional Services and Consulting.
CSR Malaysia – KPMG Malaysia is named the Sustainability & CSR Malaysia Company of the Year for 4 consecutive years 2020, 2019, 2018 & 2017 Company of the Year Award (Professional Services).