Introducing our latest corporate partner: JOM Pharmacy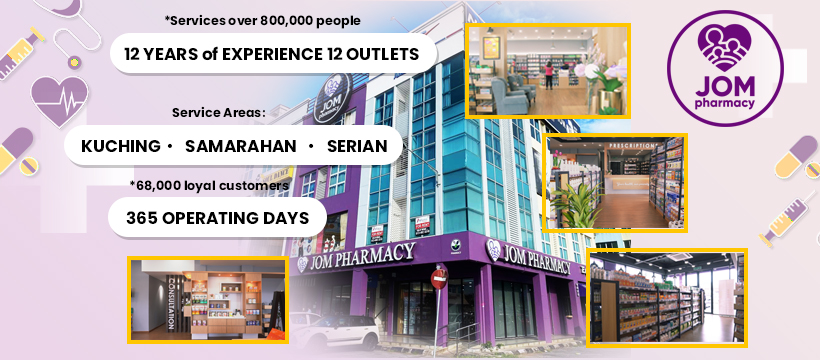 Founding and Growth 
Based in Kuching, Sarawak, we possess 12 years of experience in the pharmacy business. The word '晋康 [jin-kang]' derives from the Mandarin characters, meaning the health of Kuching residents. We are one of the recipients of Sin Chew Daily's Time Honor Brand Award, and has been awarded "Impactful Lifestyle Brand" and also have been awarded "Malaysia Entrepreneur & Industry Personality Awards 2020". JOM Pharmacy currently operates twelve outlets, of which is located in Summer Mall, Kuching Sentral, Song Plaza, Aeroville Mall, Batu Kawa, Emart Batu Kawa, Emart Matang, Emart Sejingkat, Emart Tabuan Jaya, 3rd Mile, 7th Mile, and Serian Piazza. 
Branching Out in the 2010s 
We added two new outlets in 2012 and 2013 (JOM Kuching Sentral and JOM Summer Mall), another two in 2014 and 2017 (JOM Emart Batu Kawa and JOM CityONE Megamall), bringing the total to five. In 2018, we added outlets in Batu Kawa and 7th Mile, and in 2019 three outlets were opened in Aeroville Mall, 3rd Mile, and Serian Piazza. In 2020, we added another new outlet in Emart Tabuan Jaya. Our JOM CityONE Megamall was relocated to Song Plaza in 2021 and renamed JOM Song Plaza. We have also added another outlet in 2021 in Emart Sejingkat, bringing the total number of JOM Pharmacy outlets to twelve. We have since become one of the fastest-growing retail pharmacies in Kuching, providing an innovative, high-quality range of healthcare products. We have a team of pharmacists, who undergo regular training sessions to keep them up-to-date with the latest medical advances and technological developments within the pharmaceutical industry. 
Our outlets often had three or four pharmacy assistants available on the sales floor to help customers. Our pharmacy assistants are often the first people the customers will interact with. They will not only advise patients correctly about their health needs but also act as brand ambassadors for the company. They are provided with continuous training so as to have the up-to-date health knowledge and confidence to talk to customers and promote our pharmacy as a hub for healthy living advice and care. 
Integrating core values into the everyday fabric of the business
We are strong patient-focused and we are committed to pursuing this every day. We can be identified through our mission, vision, and core values. Everything we do is focused on improving the community's health and wellbeing with conscience and love (mission) and on becoming the most reliable pharmacy throughout Sarawak (vision). Each member of our team makes integral contributions and is working toward a common goal to improve patients' lives. 
Did you know we do more than just dispense medication? 
We are expanding the range of health services we provide to our patients. Have a read through a range of services JOM Pharmacy offers to see how we could help you and your family live a healthier life!
Primary Health Screening
Blood Pressure – Available at all stores
Blood Glucose – Available at all stores
Cholesterol – Available at all stores
Lipid Profile – Available at all stores except JOM 7th Mile, JOM Song Plaza, JOM Emart Batu Kawa, JOM Summer Mall & JOM Aeroville Mall
Uric Acid – Available at all stores except JOM Kuching Sentral, JOM Serian Piazza Mall & JOM HQ Retail
Body Composition Analysis for Fat and Muscle % (Karada Scan) – Only available at JOM CityONE & JOM Kuching Sentral
Patient Medical Records