"Questioning" by Rebecca Raphael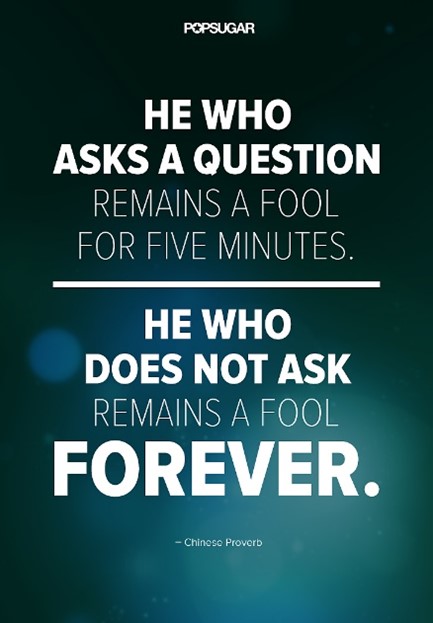 A student asked me once, "Teacher, how do I know that I'm actually thinking critically?"; my reply was rather blunt, "You know you're thinking critically when your brain hurts a lot". Sheepishly he touched his head to determine whether there's any pain and upon discovering that his head was fine and there was not a tinge of pain, he shrugged his shoulders and laughed. The action caused the whole class to laugh including myself. But all jokes aside, I'm a firm believer in the statement I made that day in class. So, permit me to state my case. 
I have been teaching for more than 2 decades and my experiences in classrooms have validated that statement even more. Over the years, I could safely say that there are 2 categories of students in the class: the critical thinkers and the non-critical thinkers.
Firstly, what do I mean by critical thinkers and non-critical thinkers? In the context of a classroom, Critical Thinkers are students who ponder deeply over the course notes, the slides given, and the lectures presented. These are the students who eventually ask questions (during class or after class) and share their thoughts in most classroom discussions. Most of the time, they appear curious and chatty. Surprisingly at times, they are not necessarily top students. Meanwhile, the Non-critical thinkers are those who just accept whatever is presented to them. No questions ask. They are unexcited and very indifferent to nearly everything that happened in a classroom. At times, they appear nonchalant and quiet.                              
One of the subjects I'm assigned to teach is Critical Thinking. Over the years, I find it rather fascinating to observe the students' level of thinking. 
Suffice to say that students of the new generation lacked the dexterity to think critically in their subjects. They fail to do a lot of connection and correlation to the things they study. They are rather lackadaisical to comprehend what makes A+B=AB. One of the reasons for not being critical is that they rarely ask questions in class. At times, they NEVER ask questions. The act of questioning is extremely important. This is the missing link in the ability to think critically. When one lacks this skill, inadvertently the mind is deprived of critical thoughts and creativity. 
Encouraging students to ask questions in class is essential. For students who have been in my class would know that "Do you have any questions?" statement is my favourite line. If you're a student and you are reading this now, take heed and start asking strategic questions in class because by doing so you are opening yourself up to a potentially wider and more expansive view of the matter. Do not refrain yourself from asking pertinent questions in class. Asking questions is not a sign of weakness or absurdity but instead it is a sign of hunger for knowledge. To have knowledge is to amass lifelong treasures that will never cease. So, if you experience headaches while studying or reading or thinking, be rest assured that you are using your brain to good use. Socrates, a Greek philosopher, who was also known as the father of Critical Thinking once said that "…for an individual to have a good life or to have one that is worth living, he must be a critical questioner and possess an interrogative soul".  On this note, I shall rest my case. 
Original writing by: Rebecca Raphael
(Disclaimer: The points made were based on my own personal observation and not taken from any other perspectives).