Meet Sherlyn #VoicesOfSunway
In the first edition of #VoicesOfSunway, we take a look at the student life of Sherlyn Kung Ling Xuan, an A+ alumnus of Sunway College Kuching and Lodge International School, to see how she manages to maintain good results throughout her time here at Sunway College Kuching.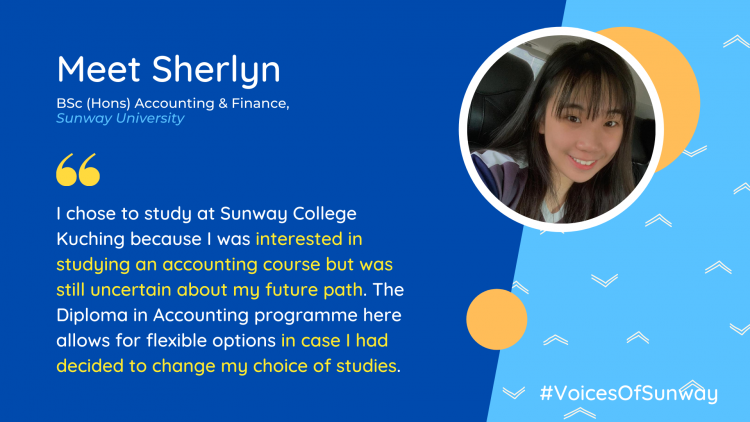 Hi Sherlyn, thank you for allowing us to feature you in our very first edition of #VoicesOfSunway. Let's begin the interview by finding out a little bit about your background.
Sherlyn: Hi, it's a pleasure to be here. Thank you for choosing me to be your first feature. My name is Sherlyn and I was born in Sibu. I moved to Kuching a while ago for my secondary education at Lodge International School.
So tell us, why did you choose to study accounting? 
Sherlyn: I chose to study accounting mainly because of my family. They recommended for me to take this course as they claimed this would be very useful in the future if I ever start working. Having accounting knowledge can help me to survive in most working environments. However, I was uncertain of my future path, so I chose to study Diploma in Accounting instead of CAT as it's a safer choice because I would be able to change my choice of studies after graduating with a Diploma if I feel like accounting is not my thing.  
Why did you choose to study at Sunway College Kuching? 
Sherlyn: SCK is indeed a good place to study, even though students tend to have less co-curricular activity choices. Nevertheless, I can see that SCK has been trying very hard to enhance a good study environment for all of their students. They even set up a lot of clubs so that the students can have some form of entertainment with friends outside of academics, so they won't be stressed from studying. I chose to study at SCK mainly because of its reputation and location. It's very convenient for me to go to the campus, as I live very close to the college. 
Tell us about your experience at Sunway College Kuching.
Sherlyn: I enrolled into SCK in January 2018, and I graduated with a diploma when I was 19. 
What's it like to study there? What will you remember the most about your time there? Happiest memories? 
Sherlyn: The study life in SCK is rather relaxing because the people here are all very friendly. The lecturers are very helpful as well. They will always help me out whenever I encounter difficulties. I will always remember the times when I would eat out for lunch with my friends because there are so many places to choose from around the college. I liked it when we all studied very hard for exams as we would always gather together to do revision with each other. This mode of study helped to enhance our relationships, and we could also study more efficiently by being able to exchange ideas with one another.  
Who are the people there that helped you along the way? 
Sherlyn: I would like to thank my lecturers, who were always there for me whenever I needed help not only in my studies, but also in other matters. I would also like to thank my friends. Without them, my study life in SCK would be boring and dull. I could not have wished for better friends in the college as they definitely made my student life a lot more fun and interesting.  
How did the Sunway help your growth as a student? 
Sherlyn: The lecturers were all extremely good in teaching so I could understand what they were teaching most of the time. They would be more than happy to assist me whenever I had any difficulties in my studies.  
What is the secret of your success and what advice would you give to students currently undertaking DIA? 
Sherlyn: The most important thing is to understand what the lecturers teach in class. I would recommend for students to pay full attention in class when the lectures are explaining concepts. The reason I always get As is because I would listen to what the lecturers say in class and jot down the important points so that it's easier for me to do revision before exams.  
So, now that you've graduated, tell us something about your current life? 
Sherlyn: Right now, I study BSc (Hons) Accounting and Finance in Sunway University. After I graduated with a Diploma from Sunway College Kuching, I entered into Year 2 directly. I choose Sunway University because it has a prestigious status and it is very famous for its accounting degree. It even provides a Lancaster University certificate once we finish this course. Also due to the current pandemic situation where most of the classes will be conducted online, I think it is much safer to stay in Malaysia for now. If the condition gets better, I plan to apply for a student transfer to an overseas university, which I have always wanted to experience. 
Does being a Sunway Kuching graduate help you get the university easier? 
Sherlyn: I think so. Because Sunway Kuching is under Sunway University.
What do you plan to do next? ACCA? Work? 
Sherlyn: I might take ACCA because I only have to sit for 4 more P papers to become an ACCA member. If not, I would take another degree.

What advice would you give to SPM/STPM school leavers currently thinking of enrolling for DIA at Sunway College Kuching?  
Sherlyn: If you are certain that you want to become an ACCA member in the future, I would recommend for you to take CAT instead of DIA because CAT is like a bullet train. It's a shorter path to reach ACCA as CAT only takes a year whereas DIA takes 2.5 years. In contrast, if you are uncertain about what you want to study in the future, but you also want to try accounting, you can take DIA at Sunway College Kuching. Not only can you change courses after diploma, but their Diplomas also allow you to enter into Year 2 directly in their partner universities. On top of that, you will also get a Diploma cert.  
Article available on RISE Issue 1