Jeffrey Cheah Scholastic Award 2022
The Jeffrey Cheah Scholastic Award is awarded to students who have achieved outstanding results in their individual academic programme at the end of their course in Sunway College Kuching. The value of Jeffrey Cheah Scholastic Award is RM1,000 and each recipient of the award will also receive a Scholastic Award Certificate.
The award is NOT open for application. It is presented to students with outstanding academic achievements at the end of the course or academic year at Sunway College Kuching. The recipients of the award will be determined by Sunway Scholarship Committee.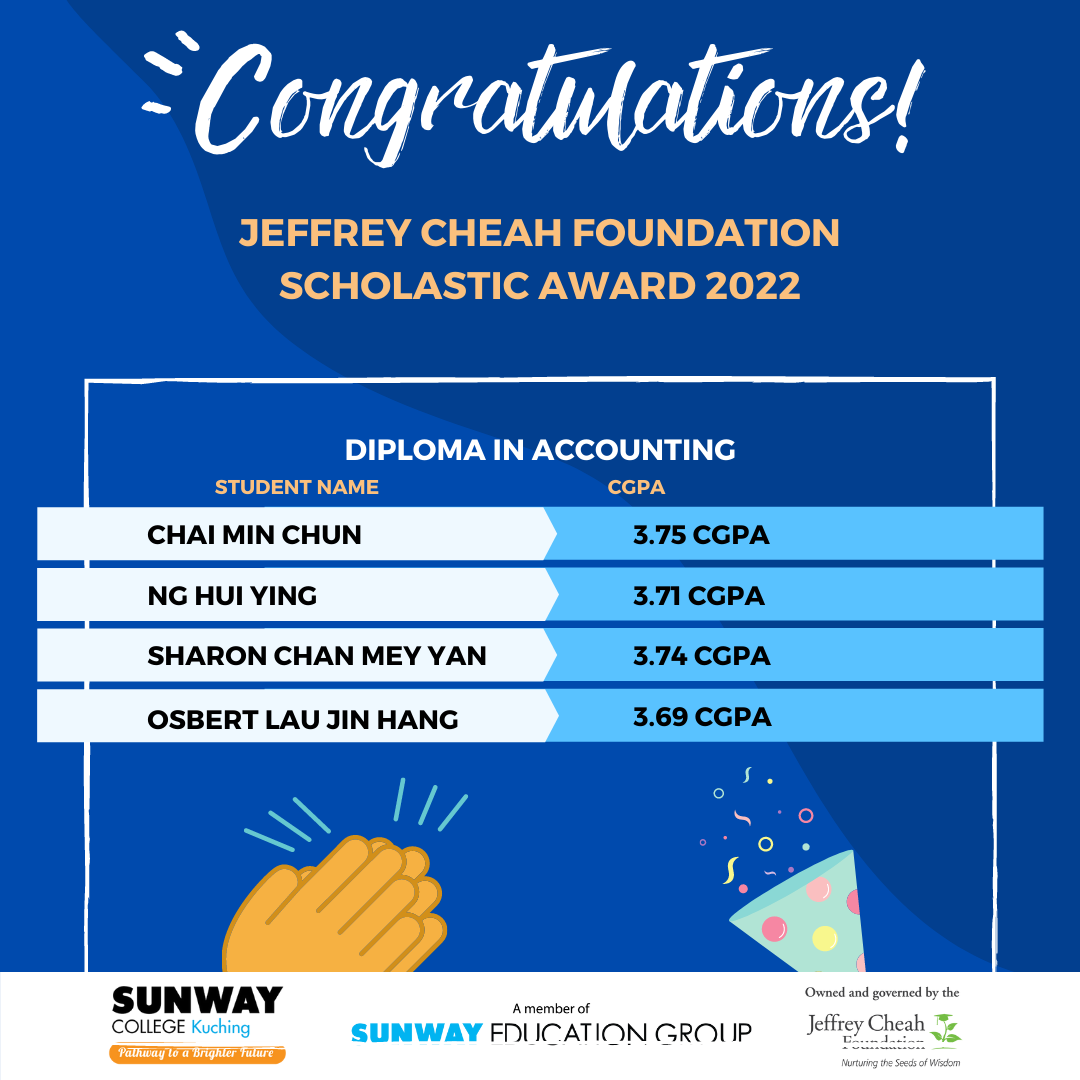 Jeffrey Cheah Entrance Scholarships and Bursaries
The Jeffrey Cheah Entrance Scholarship is awarded to enrolling freshmen in the beginning of their excellent academic achievements prior to admission into a new programme in Sunway College Kuching. 
As one of Tan Sri Dr Jeffrey Cheah's personal hallmarks, Sunway's involvement in education extends far beyond the business realm. Over the years, Sunway has given generously to society through education, which it views as a vital vehicle to enrich and improve lives.
Governed by a distinguished Board of Trustees, the Foundation aims to safeguard these institutions for the purpose of providing and sustaining quality education for present and future generations of students. In line with the spirit of the Foundation, a good education at the highest level should not be denied to those deserving; and for those that come from disadvantaged backgrounds, there should be a means, through scholarships, for them to succeed.
This unique structure is a first-of-its-kind in Malaysia for private education institutions, modelled after some of the oldest and most eminent universities in the world. Sunway College Kuching (SCK) is fully owned and governed by the Jeffrey Cheah Foundation (JCF). According to Sunway College Kuching's Chief Executive Officer, Mr Joseph Lim, "he said total scholarships and bursaries granted todate is RM288,000 for 2021. The recipients of Jeffrey Cheah Entrance Scholarships and Bursaries for 2021 are as follows:
MICOLE LAU RU SHAN
KIEW NYUK JING
NAOMI WEE JING TING
TOH JIE JIN
EUGENE LEONG U ZII
SABRINA CHAI ZI CHING
HERLY WONG YIING QI
SIM EN SI
QUEENIE YEO CHUI NIE
AARON ALFRED AK PAUL VALENTINE
NANCY CHONG SIN CHEE
HENG HONG GEK
ALVIN TAN JIA CHUN
TAI XIAO CUI
KIMBERLY SIM JIA YI
NORNAZURAH BINTI ABDUL RAHMAN
FITRI LIYANA BINTI AZIZ FITRI
THIAN SIN YII
JOEL LIM XIANG SHENG
CECILIA EMMA ANAK ISA
RODERICK YII XI ZE
KIMBERLY SIM CAI XIA
YVONNE LAI WEI LEE
GRACE BONG YI YING
ELAINE LAU ZHI NING
HUANG FA JIN
POH JIAQUAN
CLEOPATRA LEAI ANAK SUEL
PUI CHIEW NEE
KIING PEI XUAN
SHARON LU XIAO HAN
FANG JIA HUI
YEOH SHU JING
SHARON LIM XIN ER
KAREN HO LI XUAN
KENNETH KO KAI XIANG
ADRIANA BONG JIA YEE
CHANG LEE EN
JEANNETTE LAW PHIN [HIN
CLEMENT HII JING HANG
VERONICA LIM SZE KEE
CHIN YI WEN