A Chat with Thought For Food (TFF) Chief Executive Officer South East Asia Region, Melissa Ong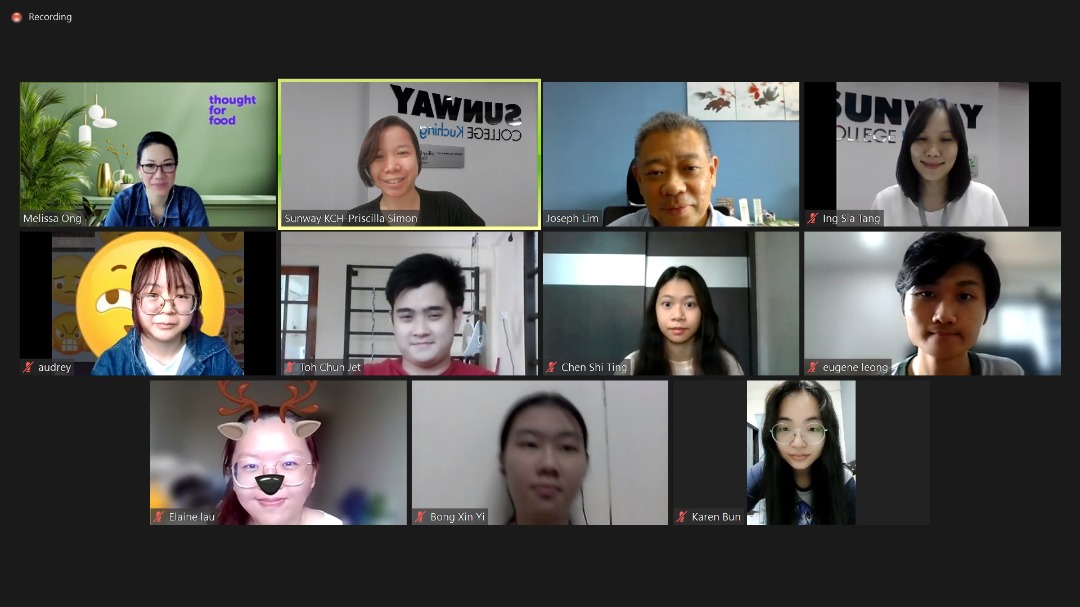 Thought for Food is the world's pioneer and leader in next-gen innovation and startup acceleration for food and agriculture. TFF offer a truly-unique innovation engine that is powered by TFF Challenge programs, ever-growing TFF Community of 30K+ Millennial and GenZ talents in 175+ countries, and their first-of-its-kind innovation and collaboration platform called TFF Digital Labs. The student ambassadors of Sunway College Kuching were invited to have a chat with TFF CEO for South East Asia Region, Ms Melissa Ong on 8th February 2022.
Our students got to understand the role of TFF, their approach i.e proactive and responsive to the communities' needs, TFF options for students to get involved such as joining them on facebook, sign up to the TFF Digital Labs, join live sessions and many more activities and events TFF and Sunway College Kuching can collaborate in the future. 
Present at the virtual chat were Mr. Joseph Lim, Director of Sunway College Kuching, Ms Tang Ing Sia, Senior Operations Manager of Sunway College Kuching, Ms Priscilla Simon, Marketing Executive of Sunway College Kuching and 12 student ambassadors of Sunway College Kuching 
Sincerest gratitude was also extended to Ms Melissa Ong, TFF CEO South East Asia Region who make this virtual meet a success and sharing the mission of TFF to create more resilient and inclusive food systems  all over the World.