You Are Never Too Old To Set Another Goal Or To Dream A New Dream
Every person has a way to be inspired. One can be inspired by a song they have just listened to or a movie they have just watched. As for me, I am inspired by so many things. The one thing that never fails to nudge my sentimental heart is a quote. Quotes are meaningful as they propel you to act upon something or to reminisce an event or a moment in your life. This particular quote by C.S.  Lewis has boosted me to embark on an unlikely project which eventually created an awesome personal achievement to myself.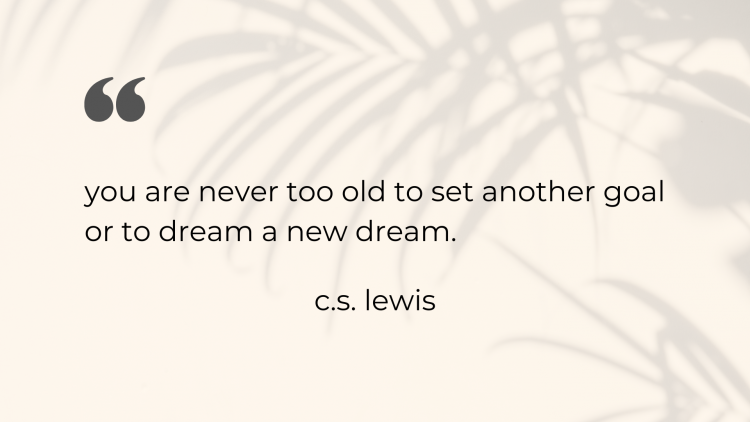 For years I have been trying to play a guitar and I have even enrolled myself in a music school for that matter. It is important to note that I was 38 at the time I stumbled upon the quote. The whole of that year, I only learnt fingerpicking. I was disappointed though because I thought by year end, I would have been able to sell tickets for my first mini concert! Nevertheless, I made it a point to practice daily at home and it drove my family crazy with my 'plucking' sound. And guess what? I STILL CAN'T PLAY A DECENT SONG even after 7 years of trying. That was how motivated I was to hone that skill. And eventually after doing some soul searching like some musicians do, I humbled myself to pick up a gentler and a lesser stringed instrument, a ukulele.
I started at the age of 45 and now at 47 I can proudly tell you that I am an awesome Ukelele player. The passion and the never-say-die attitude had me going. You can never be too old to start a new chapter in life. In class, I have met many students who told me that they were too old to start something new, too old to be an avid reader, too old to be proficient in English, etc. This is my advice to you, do not wait even a second longer for you to try a new hobby, a new skill, a new book, etc. Do not let your life pass you by. Be pro-active and take charge of your own destiny. We are living on borrowed time. Make each day count.
by Rebecca Raphael
Article available on RISE Issue 1