"The world belongs to those who read" by Rebecca Raphael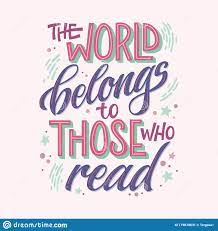 Source of image: Dreamstime.com
I could not agree more with the quote "The world belongs to those who read". I first started reading at an early age and found it very rewarding as I found adventures and magical creatures in most of the books I read at that young age. My parents believed that reading would transcend our minds (my siblings and I) to a limitless array of unimaginable cornucopia of knowledge and information. We were urged to read encyclopaedias and numerous other books like the ladybird books and Enid Blyton books to name a few. "The world" definitely belonged to me, for those were the times that I discovered faraway places, inventions, history, culture, people and many more. When I was a student, I found things easier to understand as I have read about it before. So, it wasn't a surprise when I became a passionate reader my whole life.
Sad to say, youngsters nowadays do not read as often as they should. When a person doesn't read, a person would lack the important aspect of knowledge required. In the case of most students, they only read textbooks. They would not venture beyond that as they claim reading is a waste of time and money. In my teaching experience, I find that those who do not read, do not really perform well in written papers like English essays, Critical Thinking skill papers, Law, Marketing, Research papers etc. It is a known fact that writing skills would be affected when one doesn't read.
Being a lecturer for many years, I have witnessed many instances where students were not able to perform well in papers or subjects where writing and reading skills are both used extensively. The struggles they faced were in using correct grammar, producing ideas, and formulating cohesive sentences. I honestly believe that reading has the potential to help a person to better their writing and thinking skills. All great authors and writers have one thing in common, they are all avid readers and thinkers. They need all these three elements to be good in their craft. We may not become writers or authors, but we MUST read for KNOWLEDGE IS POWER. I have TEN personal pointers that I would like to share with anyone who wants to read, and I hope they work for you.
TEN POINTERS for anyone who wants to make a reading debut.
1. Identify a genre that YOU LIKE (adventure, romance, horror, biographies, memoirs etc)
2. Find a book that fits that genre (you may want to try a well-known author)
3. Read the book slowly (don't force yourself to finish several chapters in one sitting)
4. After finishing the book, you might want to try a different author of the same genre or another
    genre.
5. Read at least two books a month for a beginner; once you're used to it, you can add more books
    as you go along.
6. Don't give up when you find the book boring or difficult to understand.
7. Set a goal for yourself on how many books you can read weekly or monthly.
8. To make your reading worthwhile, list down words that you don't know or pick out sentences that
     are relevant or meaningful to you and jot it in your notebook.
9. Set a time each day for reading; make reading a habit.
10. Before you sleep, put aside your mobile phone and spend at least 15-20 minutes reading.
I hope you find those tips beneficial to you. For you to fully comprehend the meaning of "The world belongs to those who read", you need to embark on this journey first and to see for yourself what "reading" can do for you. If you haven't tried it, you haven't given yourself a chance to be awed by the experience. So, what are you waiting for? Pick that book up!
Original writing:
Rebecca Raphael