Sunway College Kuching launches Sunway Foundation in Arts (FIA) in November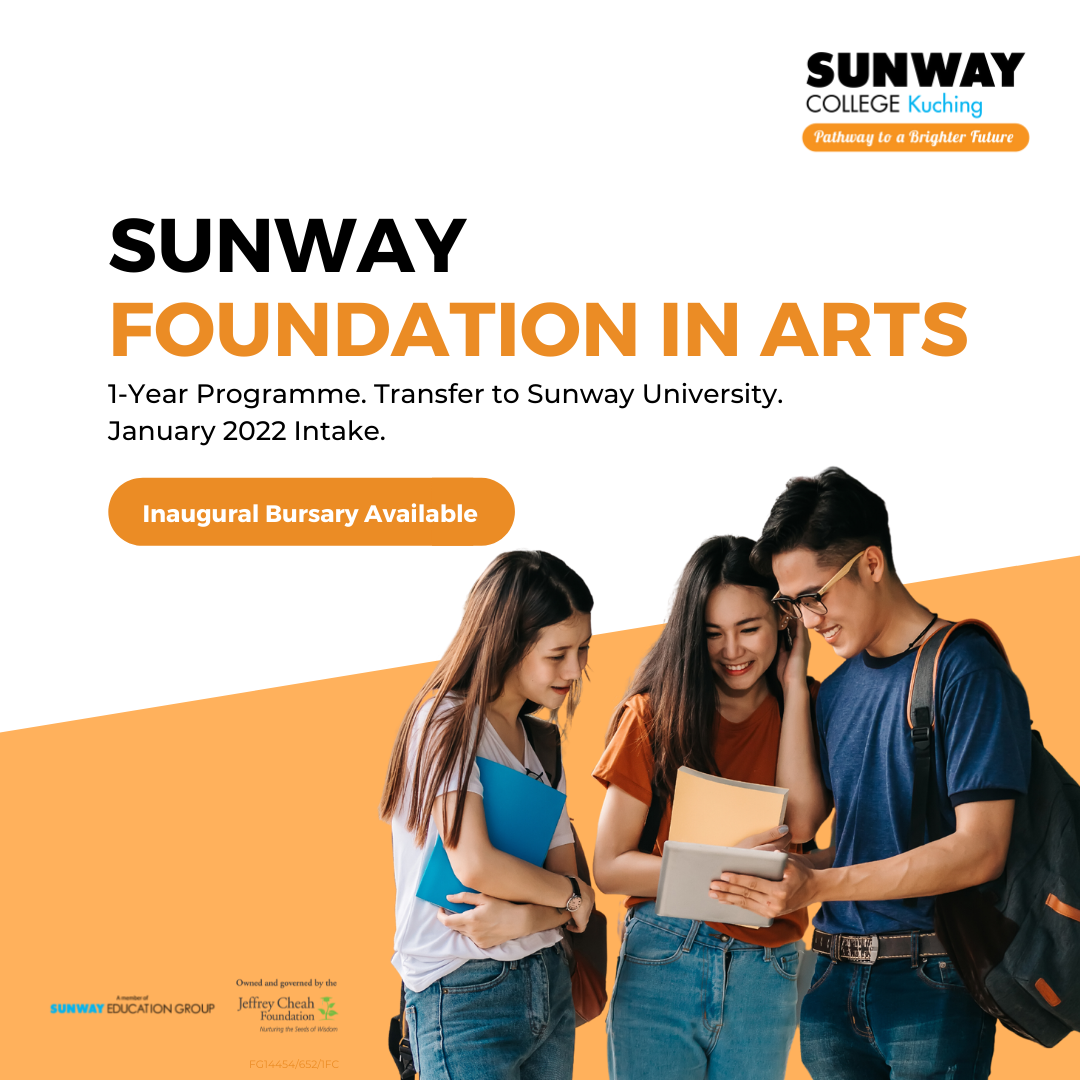 EVEN if you could study overseas, the question is… would you really want to right now? With governments the world over still grappling with the insidious impact of the Covid-19 pandemic, all sectors are affected and trying to find a sustainable way forward. But time waits for no man. People, especially undergraduates and postgraduates, cannot afford to put their future on pause and bide their time until the pandemic ends. Therein lies the dilemma: students want the very best overseas education, but with safety concerns and heavy costs, most would think twice.
As such, Sunway College Kuching is offering a world-class education within the security and safety of familiar surroundings is an opportunity many families are keen to explore further. To enjoy the safety and the support of the family network, while still obtaining a Foundation program that is accepted by 20 Universities world-wide and setting your future on a bright course is the unique opportunity that Sunway College Kuching offers.
Sunway College Kuching's Foundation in Arts is an ideal qualification for students who want to keep their options open. The Sunway Foundation in Arts (FIA) programme is a similar programme to what is being offered in the main campus, Sunway College Kuala Lumpur. The FIA programme creates an academic pathway for students to transition smoothly into tertiary level studies at Sunway University or to selected local and overseas universities. As a Sunway University preparatory programme, FIA has been specially designed to enable students to progress into Sunway University.  Subject to achieving minimum university entry required scores for their proposed degree programme, students from FIA are guaranteed a place in Sunway University. This programme believes in holistic education. This means that, coupled with academic knowledge students will be exposed to experiential learning as an integral part of their well-rounded education.
The programme was developed with academics from FIA and Sunway University having contributed their expertise and experience, incorporating key elements for students to develop intellectually, emotionally and socially.  Ensuring there is a seamless pathway from the foundation year right through to the undergraduate years.  Owing to the quality of its provision and the scope of its curriculum, FIA qualification is also accepted by selected local and foreign institutions.
FIA enables students to set personal and academic goals and to identify their individual talents.  It develops social responsibility through community involvement and participation in extracurricular activities.  It also equips students with technical and soft skills necessary to be resourceful and successful in higher studies and enterprising in their careers.  Our emphasis is not confined to students doing well in their examinations and moving on to tertiary studies but in developing their love for lifelong learning, their confidence in their own ability and finding their own talents. 
Sunway foundation graduates could be accepted into the following degree programmes in Sunway University: 
i Bachelor of Science (Honours) in International Business 
ii Bachelor of Science (Honours) Global Supply Chain Management 
iii Bachelor of Arts (Honours) Entrepreneurship
iv Bachelor of Science (Honours) Business Management 
v Bachelor of Arts (Honours) in Communication 
vi Bachelor of Arts (Honours) in Advertising and Branding 
vii Bachelor of Science (Honours) Business Studies  
viii Bachelor of Science (Honours) Marketing 
ix Bachelor of Science (Honours) Psychology 
x Bachelor of Science (Hons) in International Hospitality Management 
xi Bachelor of Science (Honours) in Conventions and Events Management 
xii Bachelor of Science (Honours) in Culinary Management  
With our articulation pathways, our foundation graduates can choose to study overseas in the UK, Japan, China, Australia, New Zealand, United States, Ireland or Singapore. Alternatively, they can stay closer to their family and friends by choosing to study at reputable local universities either here in Sarawak or in Peninsular Malaysia.  The FIA consist of 13 subjects and can be completed in one year of full-time study.  To be eligible to enroll for either course, students must have passed SPM/O levels/UEC with a minimum of five credits. Not sure what's next after SPM or IGCSE, start your next journey with our Foundation course. 
FIA is an academic bridge for students to transition effectively into tertiary level studies and upon completion students are able to develop learning strategies, technical, soft skills, setting personal and academic goals. Students will also be able to discover their own individual talents, being confident learners and leaders in addition to improving their communication skills and most importantly involvement in the community and engaging in extra-curricular activities.
Our January Intake is currently in progress. In conjunction to our official launch of Sunway FIA this October, Sunway College Kuching is offering an inaugural bursary of 40% off tuition fee for those who registered and sign up between now and 16th January 2022. Sunway College Kuching will have our SPM/IGCSE Info Day on 11th, 12th, 18th and 19th December (10-4pm) packed with exciting events throughout. Discover different programmes and get details on scholarships, financial aid and more. Join us at Sunway College Kuching's campus.