Community Service Projects by our Diploma Students
The COVID-19 pandemic has had not only repercussions for businesses but welfare homes as well. Surviving on public and corporate donations and sponsors, these homes and animal shelters have been experiencing shrinking funds to sustain daily needs. In light of a pressured examination season and realizing this fact, a group of Sunway College Kuching diploma students decided to pool their resources and initiate plans to assist struggling homes during this crisis. 
As part of their diploma curriculum for Matapelajaran Umum (MPU -2412) – the Community Service course, the students made calls to several homes to identify the pressing situation and did a needs analysis survey. They chose the Sarawak Society for Prevention of Cruelty to Animals (SSPCA) and The Salvation Army Malaysia after taking note of their current needs for animals and children respectively. Raising awareness on animal shelters, strays and homelessness, the eager students kicked off various fundraising campaigns.
Group 1
Chris Toh, the Student Ambassador President, was in charge of leading the preparation tasks, coordinating with the SSPCA and together with his group members, namely Ellisa Tho, Bong Xin Yi, Grace Chong, See Ching Ching, Vivian Goh, Ng Ka Sing, Fredy Hii and Choo Wan Qi, they promoted the initiative by designing Natural Cotton tote bags and B5 size sketch books for fund raising purposes for the SSPCA. Chris shared that his involvement has helped to redefine his coordination skills as a leader as well as gaining experience in planning an event during the pandemic. They managed to collect a total of more than RM4,000.00 with the generous support of students, friends, staff, corporate entities and families to be donated to the SSPCA. 
Group 2
Led by Caroline Thon Siew Siew and together with her group members, namely Teo Kai Yun, Sharon Chan May Yen, Pui Kui Lian, Lee Siaw Yiin, Ong Kylie, Thian Jun Jie, and Chai Ming Young, they managed to raise more than RM500.00 in cash by selling sea salt cheese cream chiffon cakes, cream puffs, mini fruit tarts, dessert drinks like jelly milk tea, mung bean soup, chrysanthemum tea, milk sorbet and jelly puddings to the public, bakery stores and friends. They then strategised to use part of the cash raised to purchase and deliver items such as hand sanitisers, bread and can food, disinfectant sprays, shower cream and anti-bacterial wipes to the Salvation Army Malaysia.
Group 3
Led by Lam Meng Tuck, one of our student ambassadors and his group members, namely, Tan Yen, Ng Hui Ying, Osbert Lau, Eric Yeo, Angeline Kiu, Chai Min Chun and Wilma Seri William, they managed to raise more than RM500.00 in cash by selling nasi lemak, cheese tarts, butter cakes, cup-cakes, homemade cookies, crayon shin-chan bowls, facial masks and the Chinese dessert – "Mi Bao Bi". They then utilized the cash to purchase canned dog food, rice, detergent and other anti-bacterial supplies for cleaning for the SSPCA.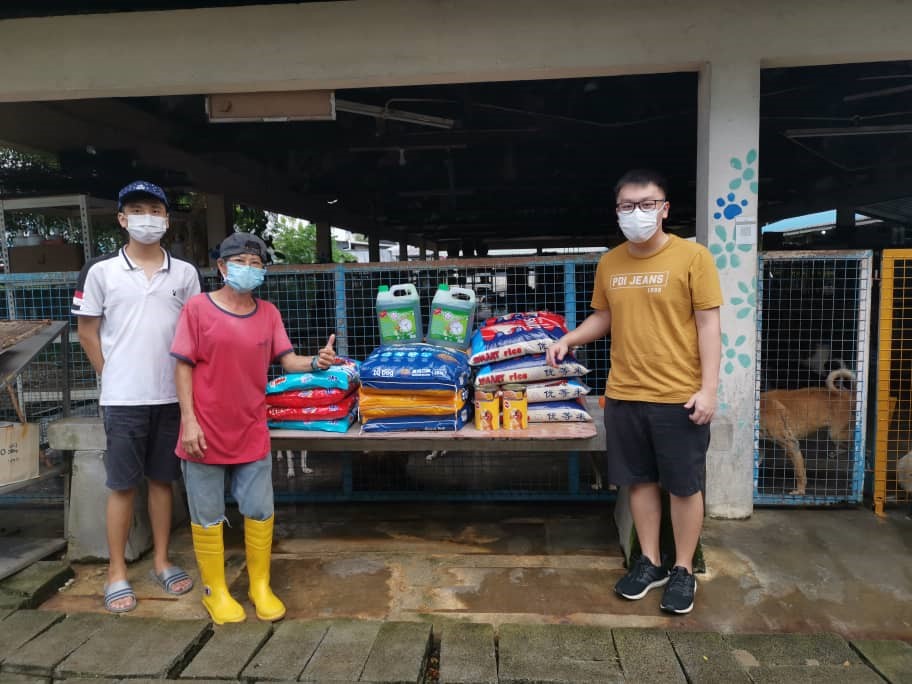 They all looked into transportation and logistical matters, considering that their team members were staying in different areas and outside Kuching ensuring all SOP measures in place.
The items were safely delivered to welcoming smiles by representatives from both the SSPCA and The Salvation Army and appreciative gestures by the home administrators who felt relieved that these supplies were now in stock.
The students were exemplary in their sincere efforts to reach out to these homes during these difficult times and their Community Service Project had acted on their empathy towards the call to support shelter homes affected by the pandemic. They learnt to understand the needs of the community better and how to take care of it.