Jeffrey Cheah Foundation Scholastic Award 2020
Sunway College Kuching awards 8 Diploma graduates the prestigious Jeffrey Cheah Foundation Scholastic Award 2020. These students are being rewarded for their consistent excellence in their studies here at Sunway College Kuching over the past two and a half years.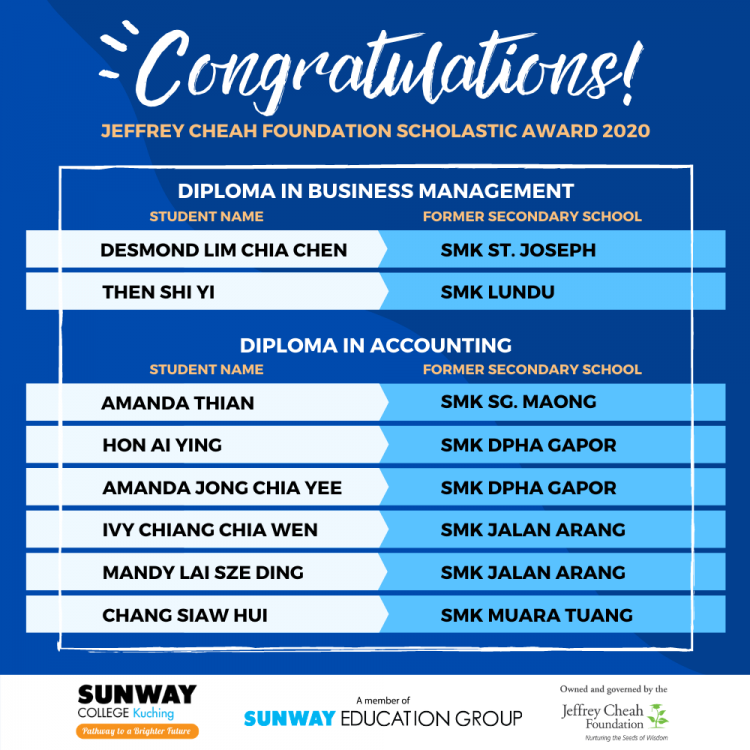 As a show of appreciation to the schools that brought up these excellent students, Sunway College Kuching will be awarding RM200 as a token of appreciation to the schools. On top of that, the winners themselves will be receiving a RM1,000 token of appreciation from Sunway College Kuching for them to prepare themselves for the next chapter in their lives.
When asked about what their plans were after graduation, some students said they will be continuing to ACCA, while others chose to twin to one of 20 partner universities to continue with their degree programmes. Some students even chose to begin their careers early by working at the firms of one of our corporate partners.
Whichever pathways these students take, we wish them all the best, and are very certain of their future success!