R/344/6/0194 (10/22) FA2731
ACCA is a world-renowned professional qualification which was first introduced in the UK in 1904. The Association is the largest and fastest growing international accountancy body in the world. Today, ACCA has 424,000 students and 147,000 members in 183 countries with an extensive network of offices and centres in nearly 82 countries. Wherever you may be, there is always support at hand.
The aim of ACCA is to offer itself as the first choice of qualification to individuals seeking a rewarding career in accountancy, finance and management. With over a hundred years of experience in accounting and financial qualification, ACCA is widely respected.
Every eight minutes, somewhere in the world, someone is registering himself or herself as an ACCA student. Does this mean that you will still stand out from the crowd? Most certainly! ACCA students and members are individuals in every sense of the word, unbound by the business-sector or country-border constraints.
WHY ACCA?
Reasons to choose ACCA as the route to a career in accountancy and finance.
Wider Career Options: Work for Your Dream Employer
This professional qualification will provide you with skills and knowledge relevant to any business allowing you to freely choose the types of accountancy role and organisation you want to work for.
Reputation and Prestige: Global Recognition by Leading Employers
ACCA is a global body for professional accountants with over 100 years of history. Accountants with this qualification are in high demand as employers all over the world recognise its reputation for quality, excellence and relevance.
ACCA Programme Syllabus
Applied Knowledge exams
An exceptional introduction to the world of finance and accounting, these exams provide students with a broad understanding of essential accounting techniques.
Applied Skills exams
Building on your existing knowledge and understanding, Applied Skills develops strong, broad and practical finance required of future strategic professional accountant in any sector or industry.
Strategic Professional
These exams provide students with the unique blend of skills, real-world focus and specialisation options which will super-charge careers and develop strategic, forward-thinking professional accountants. Strategic Professional exams are comprised of both Essentials and Options exams.
Essentials
Students will take both these exams which provide them with the skills they need to make an immediate impact with employers.
Options (**)
These exams offer the unique opportunity to specialise in areas of greatest relevance to a chosen sector or career path.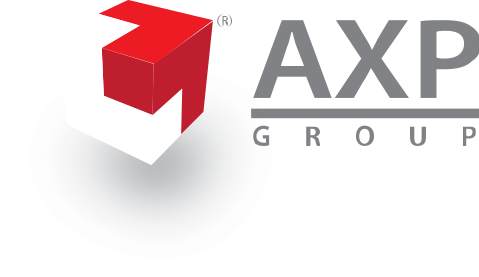 (#) Students have the option of learning AXP Audit Software and obtain a Certificate of Proficiency (if pass AXP Audit Certification)
** Please check with our counselor on the availability of each optional paper for each semester.
Structured Teaching and Learning Approaches
Kolej Sunway Kuching has a structured approach in imparting knowledge to students. Each paper consists of a minimum of 28 lectures and tutorials, comprising 2 lectures per week of 3 hours each. Selected ACCA papers consist of 30 – 40 lectures. Attendance is mandatory for all lectures and tutorials.
Exam Driven/ Exam Focus classes for each paper are compulsory, comprising a minimum of 18 to 21hours per paper. These sessions focus on past year exam questions and examination techniques. In addition, each paper carries three (3) internal assessments. These internal assessments signify one's progress in their studies.
Time Frame for Completion of Studies
Most students attempt 2 to 3 papers each semester and thus graduate in 3 years. However, ACCA grants up to a maximum of 10 years to attain its qualification.
ACCA Qualifications Pathway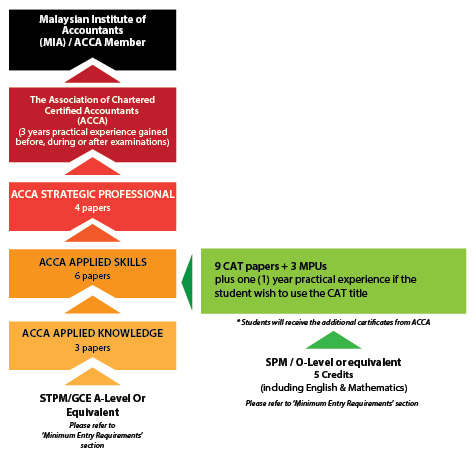 Academic Calendar
Intakes: January and July (Part-Time)
Entry Requirement
Malaysian University English Test (MUET) Band 2 and;
A pass in STPM or its equivalent with a minimum of 2 Principal passes and 5 credits in SPM or its equivalent including English and Mathematics;
OR
Completed Certified Accounting Technician (CAT);
OR
A Diploma in Accounting or related field, or its equivalent with a minimum CGPA of 2.50 and credits in Mathematics and a pass in English at SPM level;
OR
Matriculation/ Foundation qualification or its equivalent with a minimum CGPA of 2.50 and credits in Mathematics and a pass in English at SPM level;
OR
other equivalent qualification as approved by MQA/ MOE.
* MQA – Malaysian Qualification Agency MOHE – Ministry of Higher Education
Matapelajaran Umum (MPU)
Malaysian students are required to pass the MPU* subjects
MPU 1
MPU 2
MPU 3
MPU 4

Hubungan Etnik
(MPU3113)

Tamadun Islam and
Tamadun Asia
(MPU3123)

Bahasa Kebangsaan A
(MPU3213)

Or

Critical Thinking Skills 3
(MPU3223)

Economic: An Islamic Perspective in Malaysia
(MPU3313)
Community Services 2
(MPU2412)
Note:
* Matapelajaran Umum (MPU) subjects are COMPULSORY for Diploma students. Not all subjects will be offered every semester and are subject to availability.
Strategic Alliances & Partners
§  BC SIM & CO
§  C.B.S BUSINESS SERVICES
§  C.H.CHEW & COMPANY
§  CHIN KO YI & CO
§  CROWE MALAYSIA
§  CT WONG & COMPANY
§  DELOITTE KASSIM CHAN
§  ERNST & YOUNG
§  FELIX WONG & CO
§  G.H.EE DAN RAKAN RAKAN
§  C.T KHO COMPANY
§  GT ASSOCIATES
§  HII KING HIONG & CO /HII & HII
§  IDRIS IBRAHIM & CO
§  JERRY LIM & COMPANY
§  KONG PAK NAM & CO
§  KPMG
§  KT NG & ASSOCIATES
§  LAU & LING CHARTERED ACCOUNTANTS
§  LAU YAW JOO & CO
§  LIEW & CO
§  LIM TIN CHIN & COMPANY
§  LUKE CHAN & CO
§  MOORE STEPHENS TNT
§  MOORES ROWLANDS
§  PHILIP TONG & CO
§  PINNACLE ACCOUNTANCY & CONSULTANCY
§  PUANG LIONG KIAK & CO
§  RICHARD KIEW & COMPANY
§  TEO & COMPANY
§  TING HUA CHEONG & CO
§  YF LEONG & CO
§  YONG & OH
§  S.K. KUEH TAX SERVICES SDN BHD
§  AT MANAGEMENT SERVICES
§  S.C LIM COMPANY