English Courses (ESP, IELTS, MUET)
The English Learning Language Centre of Sunway College Kuching has a reputation for excellence in the provision of English language courses.  Sunway recognises that there are many reasons for studying English in today's world and offers programmes that provide for the differing needs of Malaysian and international English learners
English for Special Purpose (ESP) – (Working Adults)
R/KJP/00850(01/23)  
This programme is aimed at people who need to be able to use English at work or in social situations. It includes reading, speaking, listening and writing in an interactive and interesting programme, with an emphasis on language use in the real world.
Course Overview
Interactive teaching style using a variety of materials and mediums and the latest texts.
Small class sizes and experienced lecturers.
Upon successful completion of each module students receive a report card and certificate.
Students are able to sit for external examinations as proof of their English Language proficiency (like APTIS).
Programme Pathway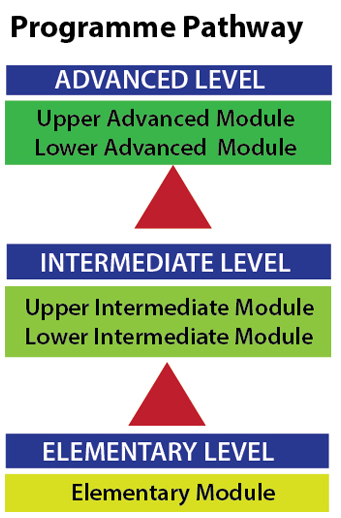 Duration & Intake
3 months (each module) twice a week 48 hrs (each module)
Intake: ( minimum of 4 students to commence class )
April and August
Additional Information
All applicants for the English for Special Purpose (ESP) – (Working Adults) are required to sit for an English Placement Test at the point of entry. Visit the Aptis website at: www.britishcouncil.org/aptis  and take the demonstration test today. Kolej Sunway Kuching is being appointed by British Council to be an APTIS Test Centre  
Why Kolej Sunway Kuching?
As a premier college in Kuching, we are committed to providing quality programmes to our students.
Benefits
Our staff members are motivated, experienced and well-qualified.
Interactive, student-centered teaching style.
Pre-testing placement system.
Many language levels to ensure complete satisfaction.
Practical language learning using a variety of teaching methods to produce students who are able to use the language not just understand it.
Up-to-date course materials and textbooks, including multimedia materials.
Access to computer labs with internet access for self-study.
Latest texts supplemented with authentic materials.
Movement between classes occurs regularly according to progress.
Regular assessments and progress tests.
British Council Aptis (Online English Placement Tests) Test Centre.
International English Language Testing System (IELTS) Preparatory Course
R/KJP/00849(01/23)
What will you learn?
The courses focus on a comprehensive overview of the IELTS test components and help you develop the skills you need to obtain a creditable score on the IELTS test. In all our courses we cover:
Type and style of questions for each section and test format.
Time management skills for each section.
Reading, comprehension and listening strategies for each type of question.
Writing strategies for task one and two.
Speaking strategies for both appropriate responses in the interview and the short speech.
Course objectives
At the end of the course, students should be able to:
Know the format and marking scheme of the IELTS Listening, Reading, Writing and Speaking sections of test.
Have developed listening strategies and understand what each type of listening question requires.
Develop reading skills and comprehension strategies.
Identify the reading question types and know what is required to answer them.
Plan and write a good essay/report in the style that IELTS demands.
Respond fluently and accurately in the oral interview.
Improve their score on the IELTS.
Course structure
Students can take the 12 week course inclusive of 4 modules (Listening, Reading, Speaking and Writing) 12 weeks course (3 months) (4 modules + 1 mock exam module) 24 sessions of 2 hours each session
Intakes
Why Kolej Sunway Kuching?
Highly qualified and experienced ESOL lecturers with years of experience in  teaching IELTS.
Small classes provide for individual attention to all students.
Interactive coaching for speaking and communication skills.
Use of authentic and latest materials.
IDP-IELTS Authorised Registration Centre
Pre and Post Placement Test to determine the band that is required.
Malaysian University English Test (Muet)
R/KJP/00848(01/23)
MUET is a mandatory test used to gain entry into degree courses offered at all Malaysian public Universities 16 sessions over 4 months
Course is taught by experienced lecturers using up to date materials.
Intakes:
April, August, December (Part-Time)