R/010/3/0304(02/20)A10544
Foundations in Accountancy consists of a suite of awards, including certificates, diplomas and a revised Certified Accounting Technician (CAT) Qualification. The Certified Accounting Technician (CAT) is a vocational qualification designed by ACCA that will allow you to support the work of professional accountants. The final – level examinations are equivalent in standard to the first year of a university degree programme. Consequently, the CAT qualification could be your stepping stone to the ACCA Qualification and membership of the global body for professional accountants.
Why CAT at KOLEJ SUNWAY KUCHING?
Progress Reports
A Parents – Lecturers' Day is held once every semester. On this day, parents are able to discuss with lecturers the progress of the students. To date, the response has been positive, fostering good rapport between parents, students and lecturers.
Time Frame for Completion of Studies
Most students graduate in one year.
Examinations
The first 7 papers are computer-based exams. Exams for optional papers are paper-based. The students who attempt the computer-based exams are able to obtain their results immediately upon completion of the examinations. Paper-based exam results will be released within 2 – 3 months.
CAT Graduates
Graduates with one year relevant and supervised practical experience are required to submit their Practical Experience Requirement which may be pre-, during or post-examination / studies to ACCA. Upon approval, CAT graduates may add the prestigious designatory initials 'CAT' to their names.
Progression to ACCA
CAT graduates attempting to pursue the ACCA qualification are granted exemption from the Knowledge Module (3 papers) and thus may progress directly to the Skills Module (6 papers).
Career Prospects
CAT graduates will be able to support Accounting and Finance functions in any type of business, both locally and internationally.
CAT Course Syllabus
Introductory Certificate in Financial and Management Accounting * *

FA1
Recording Financial Transactions
MA1
Management Information
 
 
Intermediate Certificate in Financial and Management Accounting * *

FA2
Maintaining Financial Records
MA2
Managing Costs and Finance
 
 
Diploma in Accounting and Business * *

FBT
Business and Technology
FMA
Management Accounting
FFA
Financial Accounting
 
 
Specialist Papers ( Any 2 Papers )
FAU
Foundations in Audit
FTX
Foundations in Taxation (MYS)
FFM
Foundations in Financial Management
** indicates Additional certificates awarded by ACCA
CAT Qualifications Pathway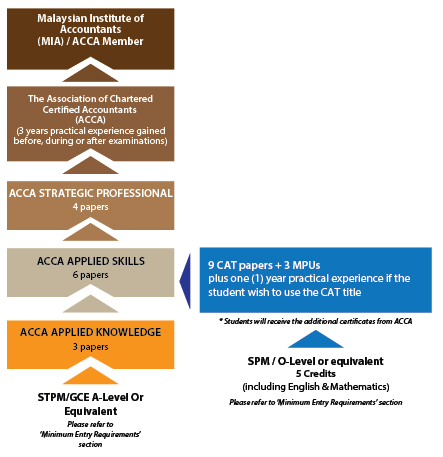 Academic Calendar
Intakes:
January, April, July & September
CAT is offered as full-time programme only
Examination Periods:
Entry Requirement
A pass in SPM with a minimum of 5 credits Including English and Mathematics; or
A pass in O-Level with a minimum of 5 credits; or
UEC – 5 B6s (Including English and Mathematics); or
equivalent qualifications as approved by MQA & MOHE *
* MQA – Malaysian Qualification Agency      
* MOHE – Ministry of Higher Education
Strategic Alliances & Partners
§  BC SIM & CO
§  C.B.S BUSINESS SERVICES
§  C.H.CHEW & COMPANY
§  CHIN KO YI & CO
§  CROWE MALAYSIA
§  CT WONG & COMPANY
§  DELOITTE KASSIM CHAN
§  ERNST & YOUNG
§  FELIX WONG & CO
§  G.H.EE DAN RAKAN RAKAN
§  C.T KHO COMPANY
§  GT ASSOCIATES
§  HII KING HIONG & CO /HII & HII
§  IDRIS IBRAHIM & CO
§  JERRY LIM & COMPANY
§  KONG PAK NAM & CO
§  KPMG
§  KT NG & ASSOCIATES
§  LAU & LING CHARTERED ACCOUNTANTS
§  LAU YAW JOO & CO
§  LIEW & CO
§  LIM TIN CHIN & COMPANY
§  LUKE CHAN & CO
§  MOORE STEPHENS TNT
§  MOORES ROWLANDS
§  PHILIP TONG & CO
§  PINNACLE ACCOUNTANCY & CONSULTANCY
§  PUANG LIONG KIAK & CO
§  RICHARD KIEW & COMPANY
§  TEO & COMPANY
§  TING HUA CHEONG & CO
§  YF LEONG & CO
§  YONG & OH
§  S.K. KUEH TAX SERVICES SDN BHD
§  AT MANAGEMENT SERVICES
§  S.C LIM COMPANY